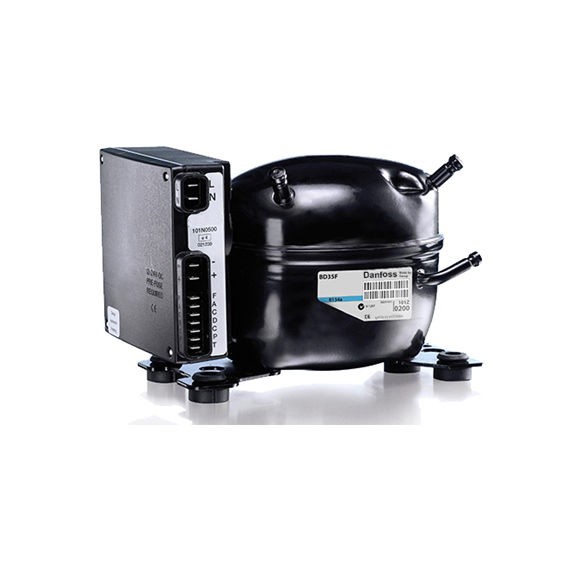 Compressors for Mobile Cooling
Tailored for People in Motion
With our outstanding DC compressors for portable boxes, cars, vans, boats, trucks, etc., Danfoss has transcended the barriers for mobile refrigeration. The excellent performance of the DC series safeguards food, medical and telecommunication. Use:
BD35F/50F/80F (12/24V) and GD30FDC (12/42V) compressors for R134a in mobile refrigerators and freezers
GLT80TDC (24/42V) andBD250GH.2 / BD350GH (12/24V) compressors for R134a HBP for mobile spot cooling systems
BD35K, R600a / BD100CN, R290 compressors in stationary applications.
BD250GH.2 / BD350GH compressors for 48 V DC, R 134a HBP for telecommunication.
All compressors are equipped with an electronic control unit with built in speed control, thermostat signal, thermal protection, safety against destructive battery discharge, electronic thermostat and fan speed control on selected models via PC software.
R290 & R600a
Danfoss SH family: Complete Offer for Optimized Commercial Applications
Hydrocarbon Compressors
R290 & R600a: Danfoss propane and isobutane compressors–tailored for light commercial refrigeration applications
By using a highly reliable technology, Danfoss offers an outstanding environmentally friendly compressor that uses propane as refrigerant.
Tailored to the predominant applications in the market ranging from 90 to 3700 BTU/h LBP to 0.5 to 11 kBTU/h HBP in 115V, our latest hydrocarbon compressor additions are available in several product ranges. They offer a wide range of cooling capacities, particularly at low and very low evaporating temperatures (-49°F / -45°C), and they are the perfect choice if you're looking for a green solution. Danfoss also proposes a few DC models using hydrocarbons.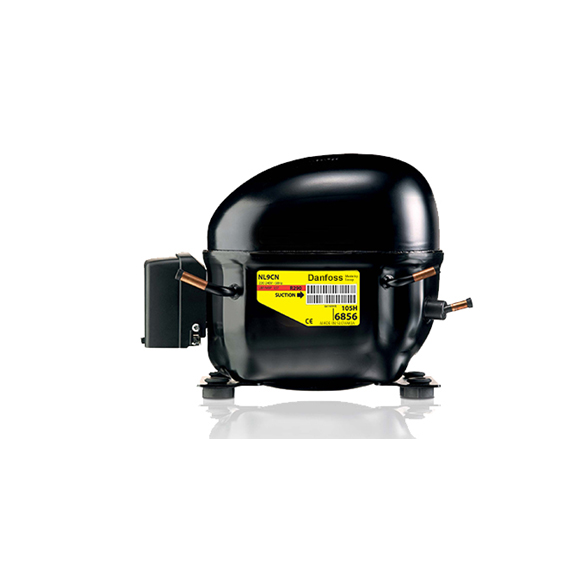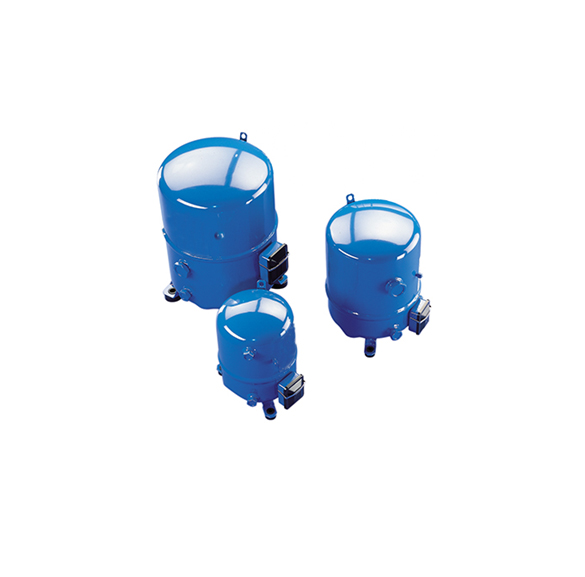 Reciprocating Compressors
A range of robust compressors
A Danfoss reciprocating compressor from fractional to 26HP can be used in commercial applications for refrigeration:
There is always a Danfoss Maneurop® MT, MTZ, NTZ reciprocating compressor, to fit various applications such as cold rooms, milk tanks, air dryers running in a wide range of operating conditions in medium and low temperature applications. The compressors are qualified for a number of HFC refrigerants such as R404A, R134a, R407C/R407A/R407F…
With Danfoss light compressors for commercial refrigeration BD, PL, TL, DL, NL, FR, SC, GS, D, U, L, P, X, S, Danfoss provides compressors tailored for applications in hotels, restaurants, catering, food and beverage, medical and lab equipment as well as Mobile & Telecom Cooling. They operate with several refrigerants including a large choice of Hydrocarbons offering a environmentally friendly solution.
With VTZxx, SLVxx, xxFSC and xxFSN inverter packages, Danfoss provides solutions for variable-speed operations which offer excellence in:
Capacity modulation and precision cooling - with stepless capacity control.
Energy savings - with high efficiency at part-load and improved SEER
Danfoss Inverter Scroll
Danfoss Inverter Scroll, VZH, for Commercial Applications in Air Conditioning
Advanced efficiency, extended
Danfoss inverter scroll compressor VZH is the second generation of scroll compressors offering variable speed technology for commercial applications in air conditioning. It allows OEMs to stand out in the commercial HVAC and process cooling marketplaces from 4 to 52 TR (15 – 184 kW) and to exceed the upgraded energy level requirements.
Boost your packaged air conditioning units, rooftops, chillers with the Danfoss VZH range… The energy regulations generate several challenges that can be easily taken up with variable speed technology. Inverter compressors are the best way to obtain and exceed the energy standards with high part-load and seasonal efficiency while providing several other key benefits.
On top of the advantages provided by the technology (precise cooling, low start-up current, energy efficiency etc), Danfoss inverter scrolls VZH have specific features that offer high value to the customers and end users:
Advanced efficiency through a wide range of applications with scroll platforms featuring Permanent Magnet Motors and optimization for different pressure ratios
Extended cooling capacities from 4 to 26TR and up to 52TR in manifold: the VZH range provides the widest inverter scroll compressor range in the market for commercial air conditioning applications.