Vanguard Toxic and Combustible WirelessHART® Gas Detector
The Vanguard WirelessHART® gas detector is ideal for the monitoring of toxic and combustible gases without the need for costly and fixed wiring. With a five year battery life and one button calibration, the Vanguard detector is easy to operate and maintain.
Wireless capability
Field interchangeable toxic and combustible gas sensors
Interoperable with existing WirelessHART® networks and asset management systems (AMS)
Easy calibration and operation
5+ year battery life*
Heavy duty design with Class 1, Div 1 & 2 hazardous location approvals
One Series Safety Transmitter
The One Series Safety Transmitter is a pressure or temperature monitoring transmitter switch that provides a NAMUR NE 43 standard 4-20 mA analog output. Its programmable high-capacity solid-state safety relay output enables the fastest emergency shutdowns.
Features
Large digital display provides process variable, status, self-diagnostics and field programming information
4-20 mA analog output with field scaling capability
100% programmable high-capacity safety relay (switch set point & deadband)
Effectively replaces a gauge, transmitter and a switch to reduce potential leak paths
Certified for SIL 2 plant safety applications with FMEDA report available
Worldwide hazardous location approvals for Class I, Divisions 1 & 2 (Zones 1 & 2)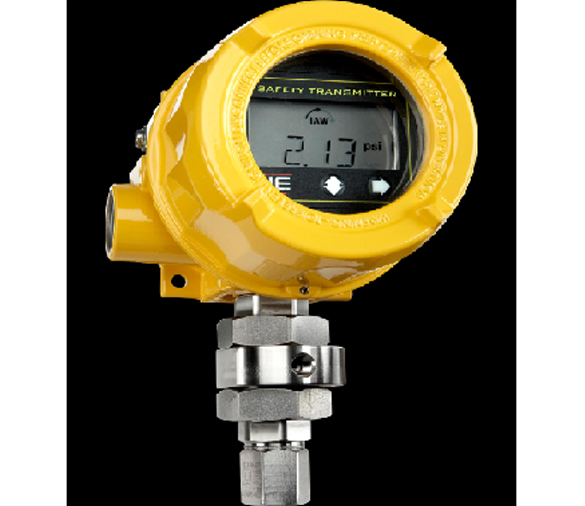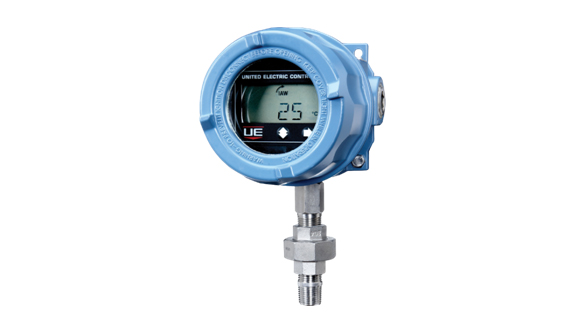 One Series Hybrid Transmitter-Switches
The One Series electronic pressure and temperature transmitter-switches set the standard for smart digital process monitoring. With a fully adjustable set point and deadband and 0.1% repeatability, the One Series performs in a wide variety of applications. Available in Type 4X enclosures approved for intrinsic safety, flameproof and non-incendive area classifications, these hybrid transmitter-switches are designed to provide transmitter, switch and gauge functions all-in-one rugged enclosure that can withstand the rigors of harsh and hazardous environments.
Features
Digital process and status display
Fully adjustable set point and deadband
Local and remote self-diagnostic reporting
Agency certifications for hazardous locations
cULus, IECEx, GOST, CE and ATEX
Class I, Division 1 & 2 models available
Zones 0, 1 & 2
3 ways to power the control
2-wire discrete input power
Loop-powered analog input
External power supply
2 ways to program the control
Local keypad and display
Remote HART® communicator
Multiple sensor types and ranges
Gage pressure from full vacuum up to 6000 psi (413,7 bar)
Differential pressure up to 200 psid (13,8 bar d)
RTD temperature from -300 to 1,000°F (-184 to 538°C)
3 models to choose from
2-wire low power single switch (only)
Loop-powered Hart Transmitter plus 2 solid-state relays
Loop-powered Hart Transmitter (only)
12 Series
Vibration-resistant, 316 stainless steel pressure, differential pressure and temperature switches
12 Series hazardous location switches are ideal for operation in tough applications where space is at a premium. A snap-action Belleville spring assembly is used to provide vibration resistance and prolonged switch life. The 316 stainless steel enclosure and hermetically sealed switch provide rugged protection from the environment. Approved for use in hazardous locations worldwide, the 12 Series is installed within applications ranging from offshore oil rigs to rotating equipment, and more.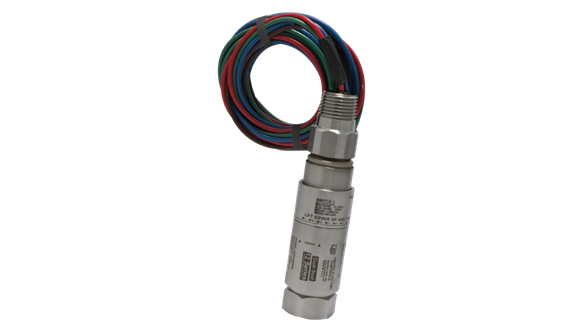 Now available with stainless steel accessories
Class 1, Divisions 1 & 2, Zone 1
UL listed, cUL certified, ATEX flame-proof & CE (LVD, PED) compliant, dual seal compliance to ANSI/ISA 12.27.01
Compact, 316 stainless steel enclosure
Available with stainless steel accessories (e.g. junction box)
Belleville spring design provides set-point stability and vibration resistance
SPDT or DPDT hermetically sealed switches
Variety of pressure sensor materials, including welded stainless steel diaphragm
Convenient field adjustment through concealed adjustment compartment; optional cover locking ring prevents incidental tampering
72" lead-wire with strain relief provided
Adjustable set-point ranges:
Pressure: 1 to 12,500 psi
0,1 to 861,9 bar
Differential Pressure: 0.7 "wcd to 150 psid
1,7 mbar to 10,3 bar
Temperature: -130 to 650 ºF
-90 to 343.3 ºC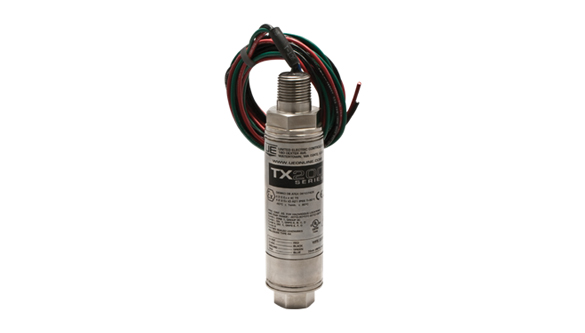 TX200H Series HART®
HART® Smart Explosion Proof Pressure Transmitter
The TX200H is a HART Smart pressure transmitter that provides simplified field adjustment while reliably communicating asset management data utilizing the latest HART 7 specification. A proprietary calibration process insures optimum temperature compensation limiting thermal effects on the sensor output. As with the ASIC TX200, it is suited for process control industries worldwide and provides a cost-effective solution to using conventional HART transmitters.
Highlights
4-20 mA, HART 7 communication protocol
10:1 Pressure Range Turndown – Simple Field Adjustment
Proprietary calibration process limits thermal effects on sensor output for optimum performance
Simple Panel or Direct-to-Process Mounting
Highlights
cULus &ATEX/CE certified for Class I, Div 1, Zone 1 hazardous areas
Pressure Ranges up to 25,000 psi
HART® is a registered trademark of the HART Communication Foundation
Now available with stainless steel accessories (e.g. junction box)
TX200 Series Analog
Explosion proof pressure transmitter
The TX200 is a compact, rugged pressure transmitter utilizing ASIC technology to provide optimum sensor signal conditioning and temperature compensation of the sensor output. It is designed for process control industries worldwide and ideally suited for petrochemical and upstream oil and gas applications. The TX200 provides a cost-effective solution to using conventional process transmitters.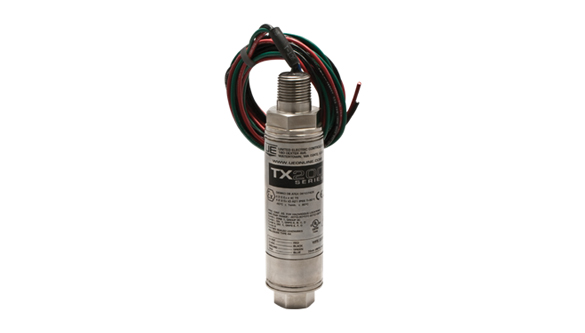 Highlights
Compact, 316 stainless steel, hermetically sealed enclosure
Fixed range or field-adjustable pressure transmitter
4 20 mA, or 1-5 VDC, or 0-10 VDC output
Highlights
0.25% accuracy
UL & ATEX approved for hazardous locations worldwide
Pressure ranges up to 25,000 psi
Now available with stainless steel accessories (e.g. junction box)
120 Series
SIL2 Certified Rugged, explosion-proof pressure, vacuum, differential pressure and temperature switches
As safety requirements become more stringent, the determining factor in specifying an industrial pressure, differential pressure and/or temperature switch rests upon that switch protecting equipment, processes and personnel. Meeting hazardous location requirements through worldwide approvals and certifications, UE's 120 Series is the choice where potentially explosive or highly corrosive atmospheres exist.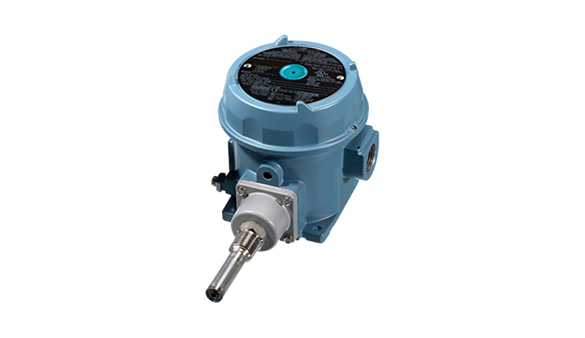 SIL2 Certified
Class 1, Divisions 1 & 2, Zone 1
UL listed, cUL certified, ATEX flame-proof & CE (LVD, PED) compliant; other worldwide hazardous location approvals available
Dual electrical conduit openings provide mounting flexibility while terminal block provides ease of wiring
SPDT, DPDT, or dual SPDT switch output of pressure sensor materials, including welded stainless steel diaphragms and bellows
Internal or external set-point adjustment
Heat trace & freeze protection temperature models
Adjustable set-point ranges:
Pressure & Vacuum: 30 "Hg Vac to 6000 psi
1 to 413,7 bar
Water Column: 300 "wc Vac to 250 "wc
-746,7 to 622,3 mbar
Differential Pressure: 0.2 "wcd to 500 psid
0,5 mbar to 34,5 bar
Temperature: -180 to 650 ºF
-117.8 to 343.3 ºC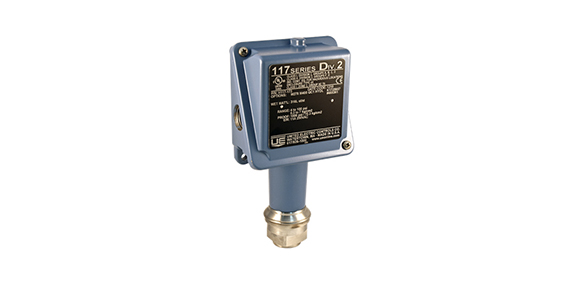 117 Series
Hermetically sealed vacuum switches, differential pressure switches and temperature switches
The 117 Series is an ideal choice for the most demanding applications; typically steel and aluminum mills, chemical and petrochemical plants, pulp and paper mills, wastewater treatment plants, midstream and downstream oil & gas, and pharmaceutical plants.
Compact design
Division 2, Enclosure Type 4X
SPDT or DPDT hermetic switch output
Terminal block wiring
Adjustable ranges:
Pressure & Vacuum: 30 "Hg Vac to 3500 psi
1 bar Vac to 241 bar
Temperature: -120 to 650 ºF
-85 to 340ºC
Differential Pressure: 0.8" wed to 500 psid F
2 mbar to 34.5 bar
Approvals: UL, CSA, CENELEC, CE, NACE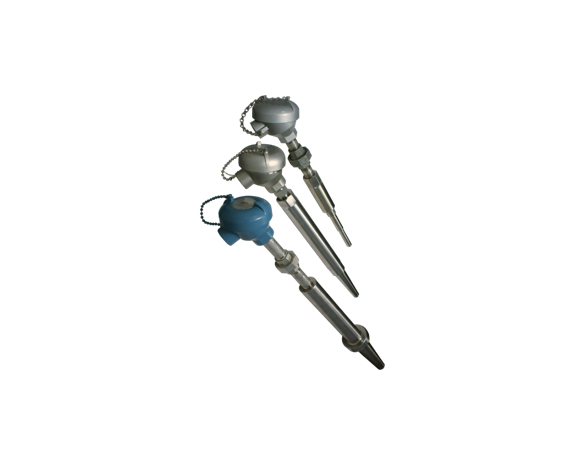 Thermocouples
Head and Sheath Styles
Thermocouples are two wires of dissimilar metals, joined at one end. Changes in the temperature at the "hot junction" (measuring end) induce a change in electromotive force (emf) at the "cold junction", where it can be input into a controller or indicator. As the temperature increases, this output emf also rises, though not completely linearly. Thermocouples can measure temperatures over wide ranges, fairly inexpensively. They are very rugged, but they are somewhat less accurate vs. RTDs and thermistors. United Electric Controls (UE) offers type J, K, E and T Thermocouple Terminal Head Styles as well as Beaded Thermocouple types: K, R, S & B. See product types below for more information or contact us directly at 617.923.6966.
Terminal Head Styles – Types- J, K, E, T
Thermocouple Insulation Types-GP, MI, BTC
Resistance Temperature Detectors (RTDs)
RTD's are stable and have a fairly wide temperature range, but are not as rugged and inexpensive as thermocouples. Since they require the use of electric current to make measurements, RTD's are subject to inaccuracies from self-heating.
Thermistors
Thermistors tend to be more accurate than RTD's and thermocouples, but they have a much more limited temperature range because of their marked non-linearity. A Thermistor capitalizes on the fact that the electrical resistance of a material changes as its temperature changes. Thermistors rely on the resistance change in a ceramic semiconductor, with the resistance dropping non-linearly with a temperature rise.
IC Sensors
The newest type of temperature sensor on the market is the integrated circuit (IC) temperature transducer. IC sensors can be designed to produce either voltage or current output and are extremely linear.IC sensors are a very effective way to produce an analog voltage proportional to temperature. They have a limited temperature range and are used to measure temperatures from -45° to 150° C (-50° to 300° F).
Accessories
The Sensor Box
A Modular Temperature Sensor Assembly System For The Instrumentation Maintenance Professional


Stainless Steel Junction Box
All stainless steel, corrosion resistant switch/transmitter-junction box assembly, suitable for use in a Class 1, Div. 1 environment, while meeting with the highest global standards.
Available for purchase with the 12 series, TX200 or as a standalone kit.
Thermowells / Protection Tubes
Thermowell and protection tube manufacturer , United Electric Controls creates and designs custom thermowells and protection tubes. UE offers a complete line of sold-bore thermowells and manufactured protection tubes in a variety of materials and constructions. Serving customers worldwide, our professional engineering and production teams collaborate with process and design engineers to manufacture products that meet the most challenging demands of the food and beverage, dairy, nuclear, military, petrochemical, pharmaceutical, and oil and gas industries.
Bar Stock Thermowells
S, H: NPT process connections
SL, HL: NPT process connections, with lag
LS: NPT process connections, limited space
F, FH: Flange connection, welded or ring-type joint
SW: Socket-weld connection
SWL: Socket-weld connection, with lag
WIH: Weld-in connection
WIHL: Weld-in connection, with lag
VS: Van Stone flange connection
Protection Tubes
CT1: Plain ceramic (alumina or mullite) tube
CT2, CT3: Ceramic (alumina or mullite) tube with hex fitting or nipple
MT2, MT3: Closed tube, with or without bushing
MT4: Closed tube, with welded or ring-type flange
Special Secondary (Outer) Protection Tubes
PT2: Outer protection tube, with bushing
PT3: Outer protection tube, with slip flange